WSM TRIBUTE to BILL SHIPTON




It was a huge shock to the WAM community when Bill Shipton of Splosh fame suddenly passed away on 5th July 2013 at the age of 57.


His original Forum site has now been replaced by http://www.sploshuk.co.uk


But very few contribute and it is a pale shadow of what went before.




WSM will continue to remember Bill each year even if most forget.


Andy from Manchester continues to update regularly on the http://www.sploshuk.co.uk
WSM last contributed on 29th Sept 2019 but I will now try to update regularly commencing with this Tribute posting.
One notable feature on the Splosh site was a long running request/discussion about cow and horse manure with fantasies of Hayley (the administrator).
On our intended forward list of movies WSM hope to publish 'a manure set' from Mrs. Custard Couple. Follow us on https://wsmprod.com to check forward movie updates.

I (Mike Ellison) first met Bill under his true name of Clive Harris (Clive William Harris) about 1978.
He was the presenter of a custard pie caper held at a venue near Hammersmith, London.
I next remember meeting him a year or two later, this time hosting a mud wrestling event on the 1st floor of a pub also down London's West End (cameras banned!)
I met him at the Mayfair magazine office on 26th May 1982 and I will show his letter next year.

As a freelance writer, he had many fingers in many pies, but was a dynamic, yet irreverent, innovator.


Here are a couple of shots of Bill in typical pose!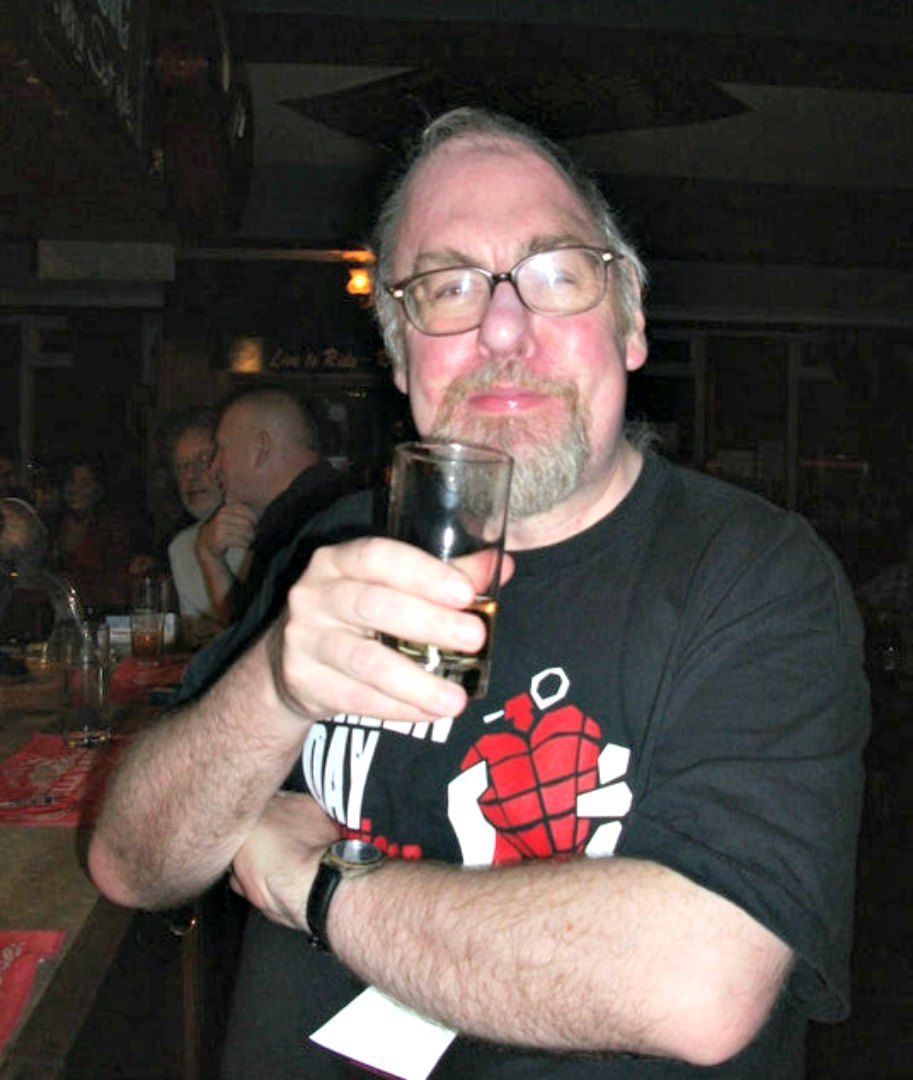 I later met Clive (now renamed as Bill Shipton ) 11th March 1989 at the 1st Aquantics Convention held at the Harbour Heights Hotel (now converted to flats!) in Tenby.
Bill had decided to launch a wet and messy magazine under the name of 'Splosh'.
WSM girls Carol and Debbie provided the 'splosh' entertainment that time (see image set S058 which is posted on the WSM Subscription Images site and has 89 pics).
Bill formed a good working relationship with Shaun Kendall (the WSM film editor) and they went on to make the 'Buff' range of videos.

Bill's writing and comic skills were well apparent, so WSM signed him up as our script-writer and Bill produced the scripts for the WSM Vintage Films numbers 3 to 9.
In fact, it was better than that, as Bill was only too happy to show his versatility by taking a number of roles in the videos. So Bill had real 'hands-on' experience in the 90's.
Now we will surprise you!


Those of you who follow WSM weekly will be amazed to see that WSM are adding a FREEDOWNLOAD

of our VINTAGE FILM 7 with the full Download of STREAM 7 featuring Bill hosting Plastermind with 5 girls (and questions dreamt up by Bill).
This runs 5 mins 37 secs

>>>>>>> http://wsmprod.com/updates/wp-content/u ... ream01.mp4


Go to Home Page, then Downloads – Online Store, then VINTAGE FILMS.
Opening Film 7 Stream 7 The Wheel of Misfortune the write-up is shown.


Bill's 1st issue of Splosh magazine was shot in the basement of the Harbour Heights Hotel in Tenby in April 1989.
WSM assisted Bill by supplying much material for issues 2 through to 11.
There were 40 issues of Splosh.
But Bill realized at the end of the 90's that a new phenomena was changing the world.
So the internet made magazine production too costly as sales fell away.

The introduction of a studio and a devoted 'Splosh' website changed Bill's direction.
But new technology is a curse and Bill struggled to master all the aspects of video/DVD production.

I last met Bill in 1999 when we completed Vintage Film 9.
Since then we had many a phone conversation which always ended in the same manner….laughter!
We ended up as two captains in the worldwide sea of WAM, me on the container ship WSM with weekly drop-offs.
Bill had his cruise ship 'SPLOSH'. Everyone was welcome to sit at the Captain's table and Bill was recognized as the talented, witty comic genius he was and great company to be with!

The magazine and latterly website, brought many different people together as a community.
Bill had a huge influence on many lives and his term 'Splosh' entered our language.
I would think the NHS owe him a huge thanks for reducing their therapy costs!
Latterly, life was a struggle for him as he showed devoted care to his elderly parents.
But we all know that he cared very deeply for his Splosh family.
He was the kindly, caring, compassionate, yet always willing to be amusing, face of WAM.

So a legend departed!
Few people had such a legacy to have been loved by all.

But the greatest sadness is that his work does not live on as a single body.
This is a great warning for all WAM producers.
I have duly taken heed and ensured that the movies and images of WSM will live on.
Why the big man in the sky takes some people far too early yet allows others (me) to fester on for many more years, is just a mystery. But let us enjoy Bill for what he was!

At the time of Bill's sad passing his Mum Molly was aged 88 and his Dad Bert was 91.
It seems more than preposterous that these two old folks have suppressed all the fine WAM work Bill achieved!
Within the last decade there has been a witch hunt against adult material culminating in the vainly crazy Digital Economy Bill. This wished to verify that only adults were subscribing to adult websites, but because of the enormous costs involved and the possible privacy implications, it did not proceed.
So how many cases do you read about of minors being exposed and being harmed by adult and porn material? Quite ridiculous…. when kids watch at least 10,000 murders on screen during childhood!
And now the spotlight has swung to Gay Pride and Transgenders.
And good fun-loving Bill Shipton videos should be praised to the skies!
It is great and eccentric WAM material presented in a cheap yet very cheerful way!
It is about time that Bill's video's and DVD's are available to all who wish to see them!